Greetings.
Welcome to Spiffywear, the only place in the world where you can get the paradigm-altering artwork of Spiffy Balloonhed on a t-shirt. As far as I know.
A Spiffywear t-shirt on you, your kids, or someone you know shows the world you're discerning thinker who is willing to slap it and all its preconceived notions in the face. And that you're willing to turn your kids and people you buy shirts for into an accessory of your discerning thinkyness.
The following images represent the general or very specific theme categories. Click on them to see what's inside.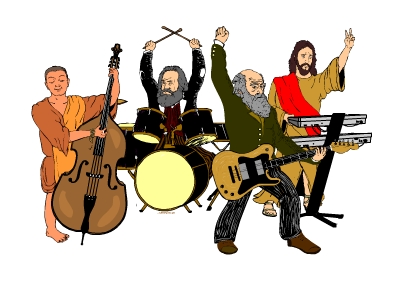 A bunch of interesting guys, playing in a band.

A dollar from the sale of each Band-related shirt will be donated to Christie Lake Kids

Art derived from Tibetan Buddhist and other spiritualtraditions, often intended for other uses (like tattoos), made available on a Shirt for you edification and delight.$1 fromevery shirt sold will be donated to the Tibetan Nuns Project.
Illustration highlights from Spiffy's blog, Balloonland, and the best from previous T-Shirt making ventures.

Generally speaking, these are good t-shirts if you like to give the world a good lefty scolding. Or, if you like evil clowns and aliens.

All dollars from the sales of these shirts will be used to support this T-Shirt shop and other Spiffy Balloonhed tomfoolery.

Spiffy's collection of images he's created for his kids, or anyone else's kids, really. Go to Town.